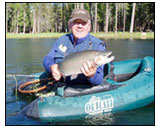 Lassen Meadows Ranch is located 8 miles from Chester, California in the Mount Lassen drainage. Only 2 hours from Reno, 3 hours from Sacramento and 4 hours from the Bay area, this trout fishery is one of the area's most secluded, private still waters.
T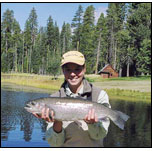 he ranch is owned by the Margiotta family and a summer home of Russ and Debbie Margiotta. The property sits in the shadow of Mount Lassen and has springs that run into the ranch's lake year round. Whether just fishing for the day, camping or staying in one of the cabins, Lassen Meadows Ranch offers fly fisherman from beginner to advanced a place to fish and stay in spectacular solitude. The property is "off the grid" and abundant power is produced by the 1920's Pelton Wheel.
The Meadow cabin is a 2 bedroom, newer, rustic-style cabin which has all the luxuries of home and maybe a few more. The cabin has everything from radiant heat in the floors to satellite T.V. The kitchen is loaded with all the amenities an enthusiastic chef could want.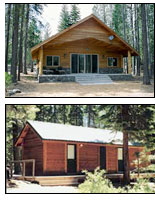 The Lake Cabin is a one bedroom structure with kitchen and bathroom facilities. It is designed for a couple to comfortably enjoy a few days of solitude.
The A-Frame cabin commands the best view on the property. It is suitable for 1 or 2 anglers for a night or two and is perfect for those who do not need full cooking facilities. This cabin is equipped with a coffee pot, mini refrigerator, bar sink, a barbeque if desired and a full bathroom. It is great for couples.
There is a campground located on the lake shore, complete with power and water hookups for R.V.s as well as outdoor lighting. This area is perfect for club outings or larger groups. There is a luxury bathhouse with separate rooms for men and women, full showers and a laundry room.
The lake is home to a vast array of birds, especially in the late spring, when ducks, geese, sand hill cranes, osprey, bald eagles and more inhabit the lake and surrounding forest. Late spring-early summer is a great time for the wildflower enthusiast.
The fishing season is determined somewhat by Mother Nature but the ranch is usually accessible around the Memorial Day weekend and that is traditionally when it opens. Fishing remains good until late July and picks back up in September - early October.
Rates:
Fly Fishing Rates: $125/day
Meadow Cabin - $175/night, 2 night minimum (Sleeps 4 - 1 queen bed, 2 twins beds and a sofa bed.)
Lake Cabin - $175/night, 2 night minimum (Sleeps 3 – 1 queen bed and a sofa bed)
A-Frame Cabin - $100/night, 2 night minimum (Sleeps 2 – 1 queen bed) A roll-away bed is available for any of the above upon request.